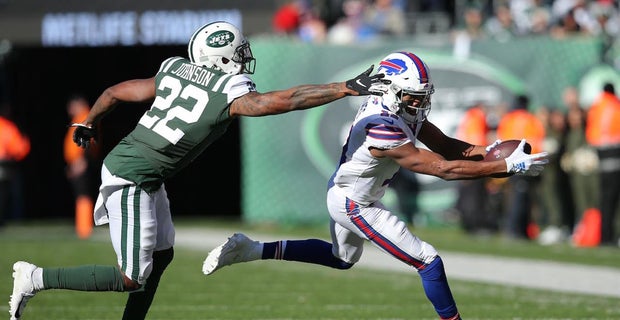 When the New York Jets signed cornerback Trumaine Johnson last March, they did it thinking he would become the face of a tenacious, ball-hawking secondary. Instead, Johnson has become the face of everything that is wrong with the 2018 Jets.
The Jets have to be feeling buyer's remorse after giving Johnson a five-year deal worth $72 million, and $34 million guaranteed, because he has not lived up the contract. That is a lot of money to give to a player who has never been a Pro Bowler or considered an All Pro. In short, Darrelle Revis he isn't when it comes to production.
When he has played, Johnson has been horrendous. Jets fans are used to seeing Johnson get burned on a regular basis by quarterbacks who are not afraid to go over the top to hit wide-open receivers. I can see Robert Foster of the Buffalo Bills still running past a befuddled Johnson as Matt Barkley hits him in stride for a 47-yard completion three weeks ago.
What a nightmare first season in Green and White it has been for Johnson.
Johnson has only 21 tackles, one interception and two passes defensed this year. He is not even close to being the guy who recorded 71 tackles and seven picks for the Rams in 2015. The only explanation for Johnson's lack of production is the quad injury that forced him to miss five games has seriously impacted his game.
Other than that there are no excuses.
But don't tell Johnson that he is not playing well. Johnson spoke to Manish Mehta of the NY Daily News and said he has no regrets coming to New York to play for the Jets, and doesn't feel any pressure to live up to expectations.
"Not at all," Johnson said. "Not at all, to be honest with you. (When) I came in here, my whole main focus was to flip this organization around and start winning games. Our goal was to go to the playoffs. Like I said, I've always been about winning where I'm at. But as far as pressure … no. I love the game. And I like going out there and competing no matter what's going on."
There hasn't been a lot of winning thus far. There hasn't been a lot of anything coming from the guy wearing number 22. The cavalier response from Johnson can't sit well with Jets fans who expect a player making as much as Johnson is to play better than this. 
What has to make the Jets so uncomfortable is the remainder of Johnson contract, which can now be viewed as an albatross, especially if the poor play continues. Johnson is to make $19 million in base salary over the next two seasons, and New York doesn't have an out in the contract until 2021 when Johnson would have pocketed $45 million. Cutting him would cost $12 million against the cap in 2019, and $15 million in 2020. So moving him is not easy.
This doesn't mean the Jets won't try to do something with him in the offseason. The Jets will enter 2019 with at least a new head coach, and a new defensive coordinator. Of course there is also the chance they'll have a new GM too. Either way, Johnson has to prove his worth to the Jets.